ten temporary structures built by Hello Wood's students
The Hello Wood Summer School and Festival is a ten-year-old event that invites students with artistic sensibilities and creative ideas from all around the world to connect and co-create. Since its inception in 2010, the festival has become a significant international event for architecture and design students, introducing innovative ideas and sustainable architectural solutions. The festival has welcomed over 1000 participants from over 70 countries and 50 universities, resulting in more than 150 projects.
After a three-year hiatus, the event is making a comeback this July, and to celebrate this occasion, the organizers have selected ten outstanding pavilions from previous years, offering a glimpse into the festival's long and fascinating history. This time, the festival will not only feature wooden architecture but will also showcase land art projects and allow space for digital architecture, including AR and metaverse projects. The upcoming Hello Wood art festival, named the Builder Summit, will be held in the post-apocalyptic mine of Zalahaláp, in the countryside in Hungary.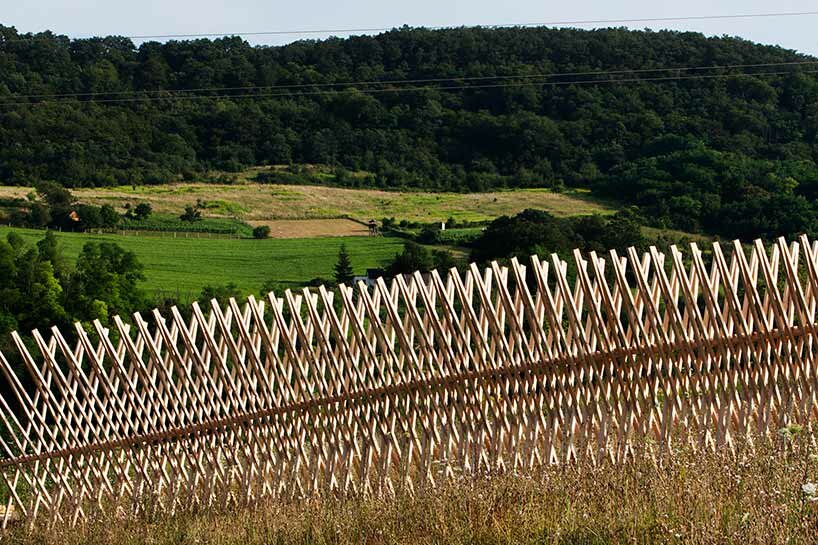 all images by Tamas Bujnovszky, unless stated otherwise
Corn-walk (2014, Play with Balance)
Nestled in rural Hungary, this site-specific installation stretched along the cornfield overlooking where the sun sets. The brief was to explore the notion of 'playing with balance' by examining the limits between contrasting ideas. The resulting piece was crafted utilizing ordinary A-frames that varied in length over time. The structure served as a striking focal point on the inclining terrain until it eventually blended entirely with the tall crops.
team leaders: Juhász Ákos, Eke Dániel (HU)
team: Kata Bóta, Milán Bokor, Lucas Facer, Katalin Gencsi, Kylén Eeva, Guilherme Leick, Anna Petrovicz, Róbert Tóth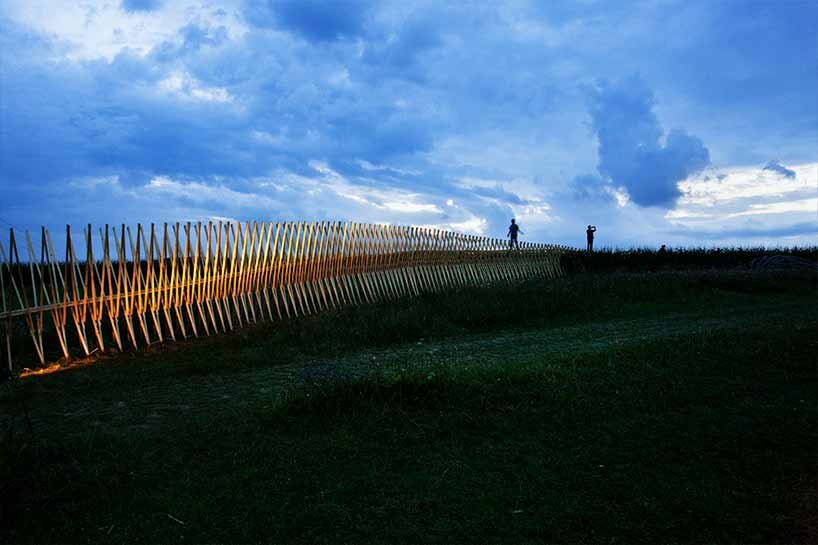 Inventory 2016, Project Village
In 2016, Project Village entered its second year, a three-year initiative that tasked participants with constructing a rural campus for the Hello Wood summer school and creating their own settlement. As part of this event, the 'Inventory' project was created to commemorate the arrival of campers through simple yet symbolic physical evidence. Located at the campus entrance, it marked a gateway for campers to leave their old world behind and prepare for the exciting experiences that awaited them.
team leaders: András Cseh, Endre Ványolós, Áron Vass-Eysen
team: Florian Gabriel, Maelys Garreau, Panna Petró, Emese Burista, Máté Jambrik, Bianka Bíró, Mercedes Palacio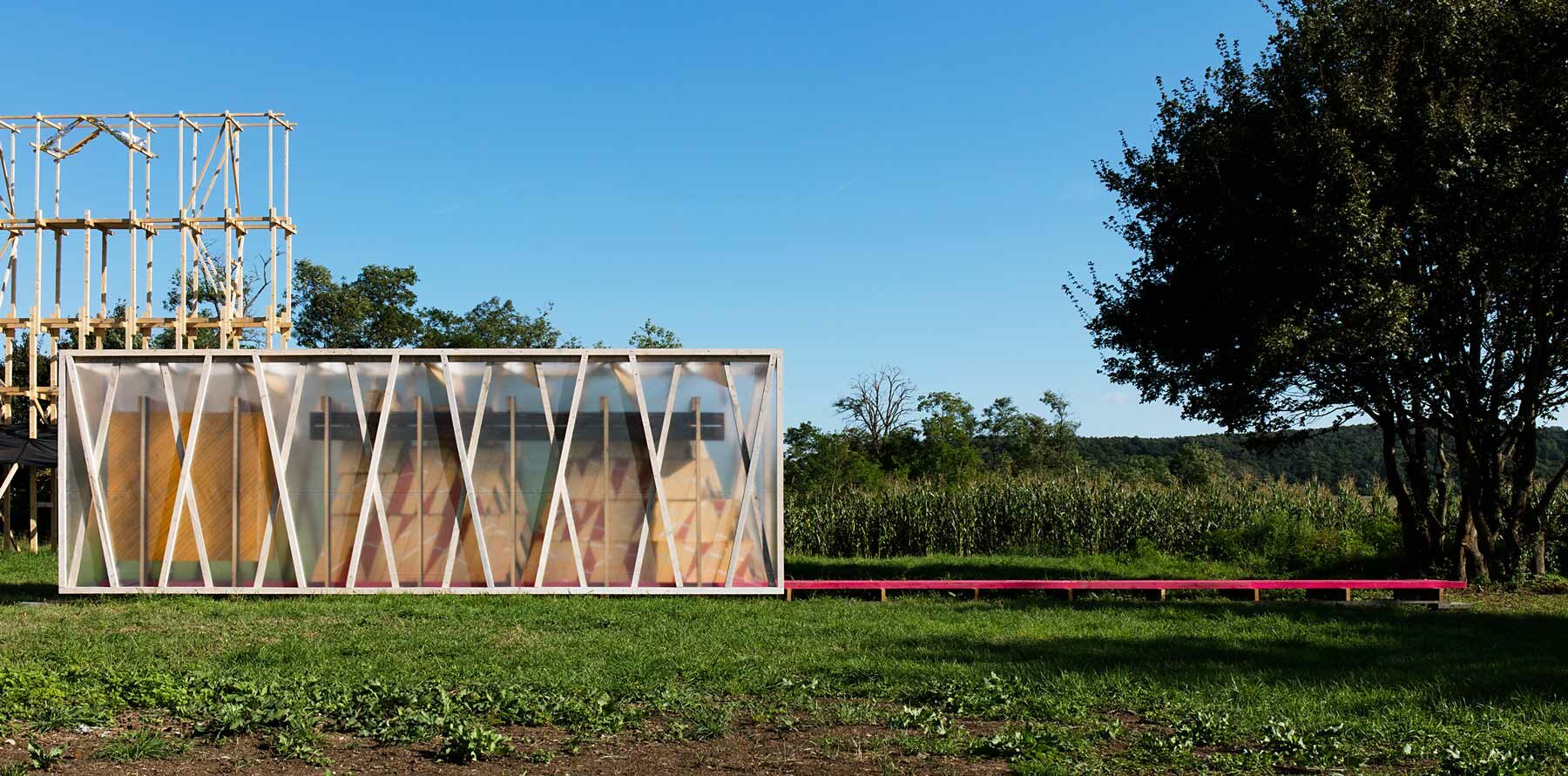 Project Villa (2016, Project Village 2)
Project Villa, the first prototype house in the camp's history, was created as a lookout point, offering climbers an impressive panoramic view of the surrounding countryside. The team focused on contemporary housing and the future of prototyping, conducting thorough research on the local history of prototyping as a means of driving social and aesthetic transformation.
team leaders: Áron Baki, Csongor Egyed, Máté Gadolla, Márton Kőműves, Ákos Szabó, Ákos Takács (BuildunBuilt)
team: Pablo González Serna, Marta Zabik, Sylvia Winter, Angela Recasens Estrada, Yushi Zhang, Aleksandra Sudnikovich, Anna Raczynska, Makai Luca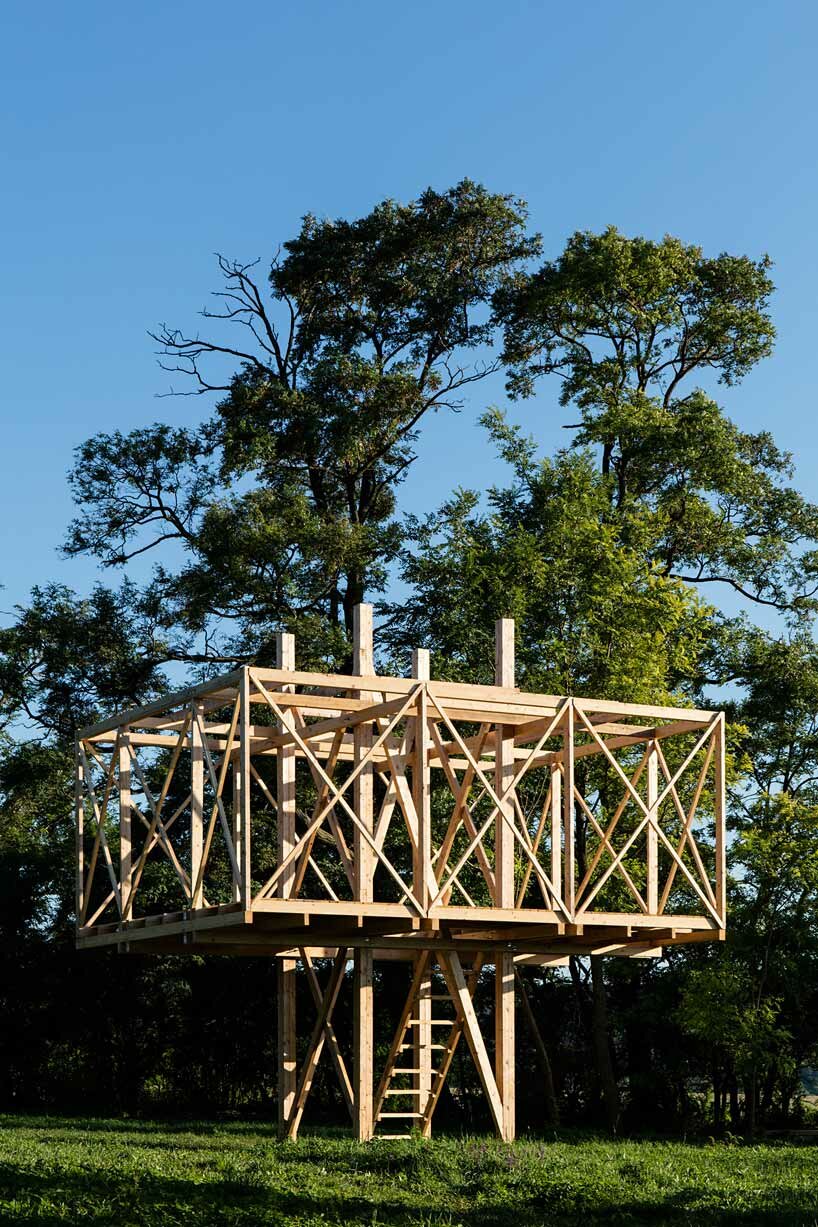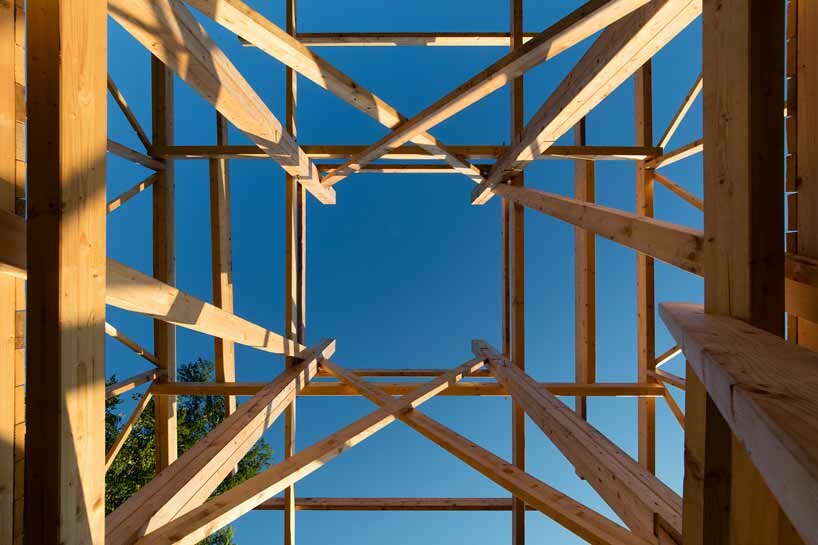 I am a monument (2017, Project Village 3)
'I am a monument' is a reimagined version of Project Villa from the previous Hello Wood camp. Builders added a roof, an upper floor, and side walls to the existing stilts, creating a sheltered and shaded area. While improving upon the original structure, the builders also maintained its initial design elements. This approach aligns with the architectural principle that a building is never truly finished; it evolves and adapts over time to suit the needs of its occupants and any subsequent renovations. The name pays tribute to the hard work of the previous builders.
team leaders: Josep Garriga Tarres, Patxi Martin, Natalia Vera Vigaray (OfficeShophouse)
team: Aloutsanidis Vasilis, Lance Macadangdang, Rogier Tamminga, Hena Wang, Darya Moatazed-Keivani, Berta Ballestin, Lara Gonzalez, Pyeori Jung, Charlotte Cocking, Zhao Zhou, Fábián Villányi, Ruairidh Murdock, Gabrielle Sanchez, Trevor McClelland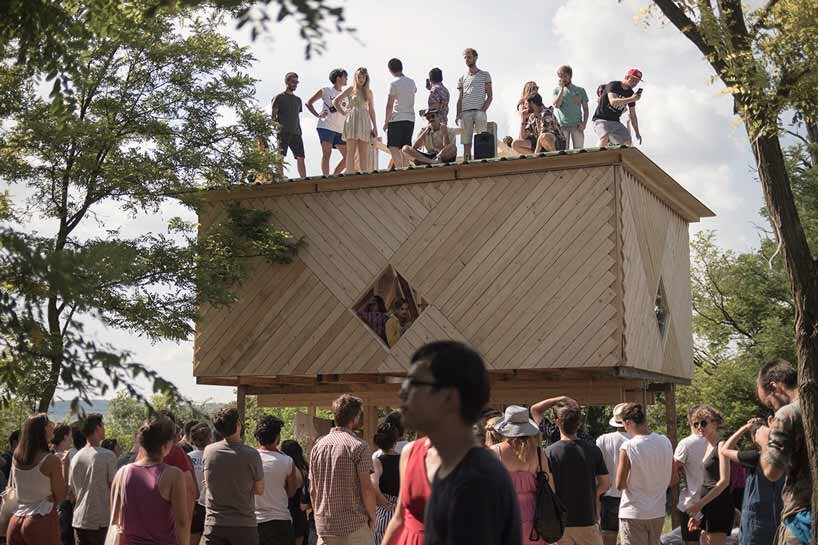 image by Balazs Glodi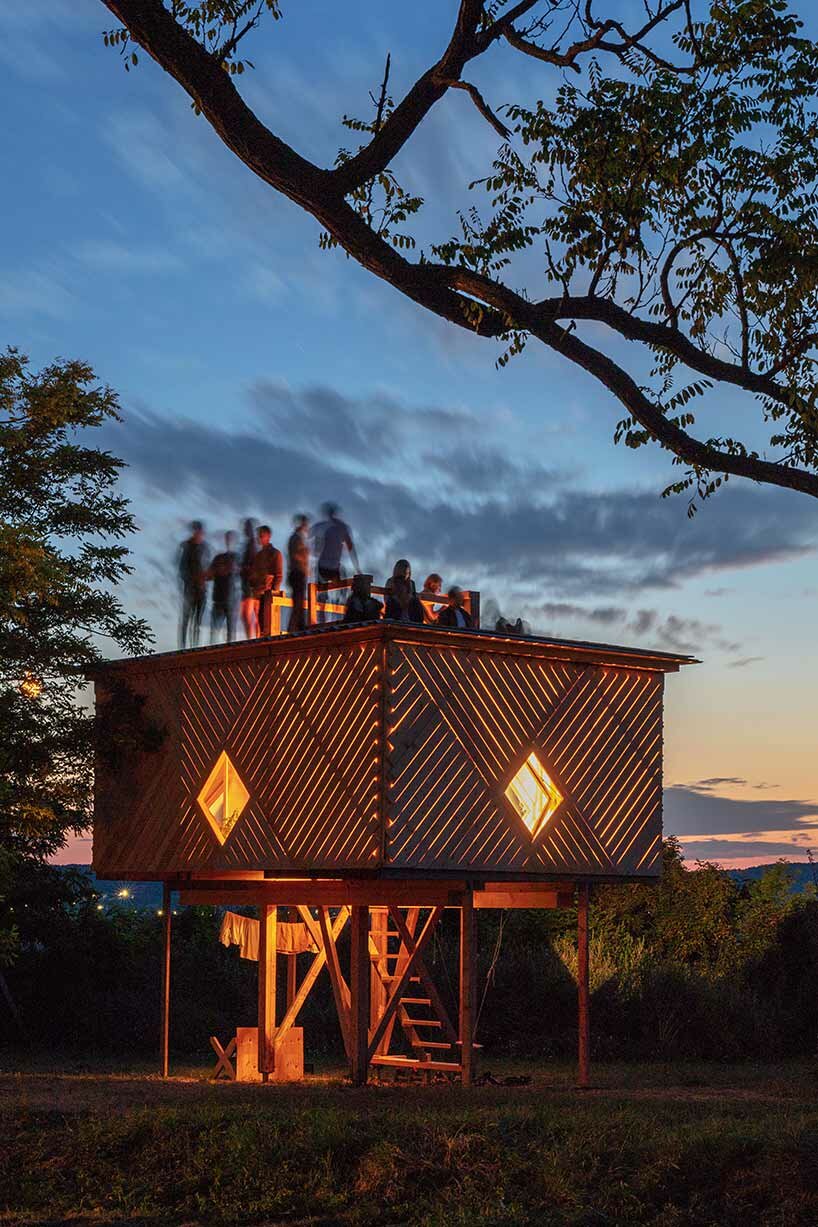 The Tower (2017, Project Village 3)
The Tower was a symbol of continuity in time and space connecting the past and the present. When climbing the observatory structure, one could not only see the Hello Wood campsite with its new structures but also glimpse back at the former Project Village site of Csórompuszta. Additionally, it was a nod to the past as the top of the tower was fashioned after chimneys found in the village, and reclaimed wood from previous projects was incorporated into its construction.
team leaders: Bence Pásztor, Dávid Tarcali, Soma Pongor (Studio Nomad)
team: Claudio Parada Nunes, Paula Prkacin, Sandra Przepiórkowska, Botond Gazda, Josef Vild, Josine Vos, Sabrah Islam, Riccardo Gialloreto, Ádám Tóth, Anna Smołko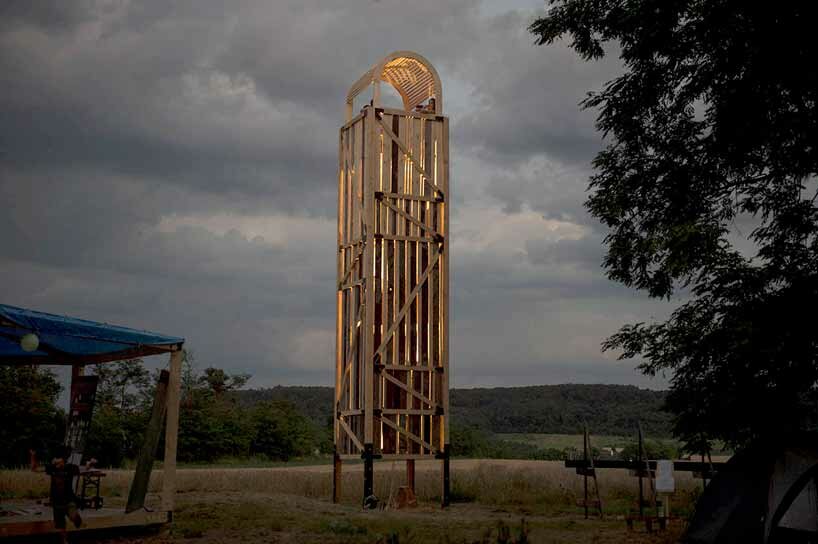 image by Balazs Glodi
Hello Wool (2018, Cabinfever)
As part of the Cabinfever, one of the most memorable Hello Wood festivals, the 'Hello Wool' was clad and insulated with wool and specially designed for use by one person. Functioning as a space of retreat and introspection, the cabin is covered with two layers of wool, so that even if water may seep through the first layer and small bugs may hide within it, the second inner layer will always stay dry and clean. Wool is an excellent insulating material keeping out the heat and the cold. The tin-roofed building has been designed so that the warm air of the rooftop area escapes via a chimney-like vent and the tiny holes in the wood panels around it.
team leaders: Lukács Szederkényi and Dénes Emil Ghyczy (AU Workshop), Marton Low
team: Dóra Riederauer, Márk Winkler, Alžběta Brůhová, Harriet Dyke, Lenneke Slangen, Tina Peirlinck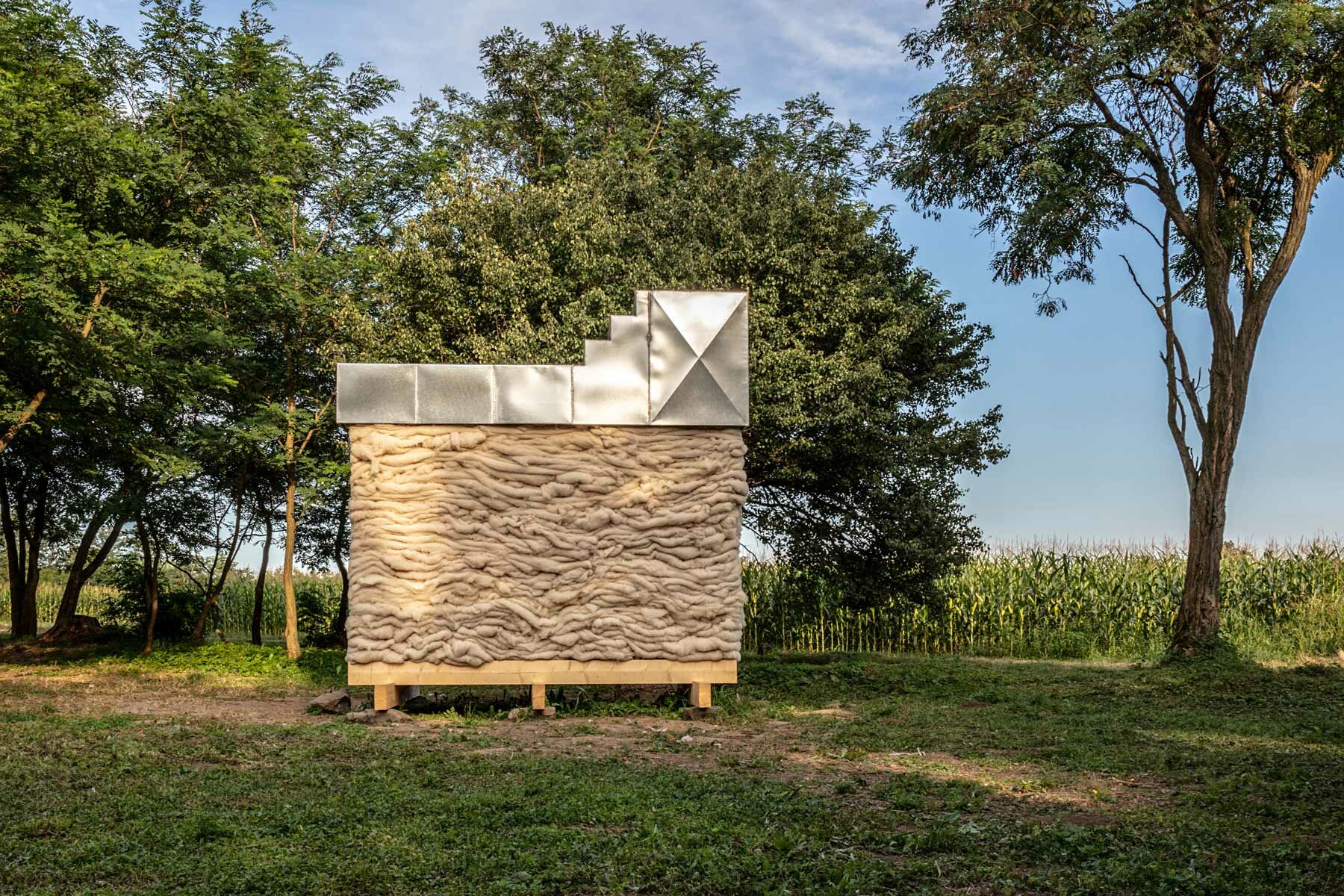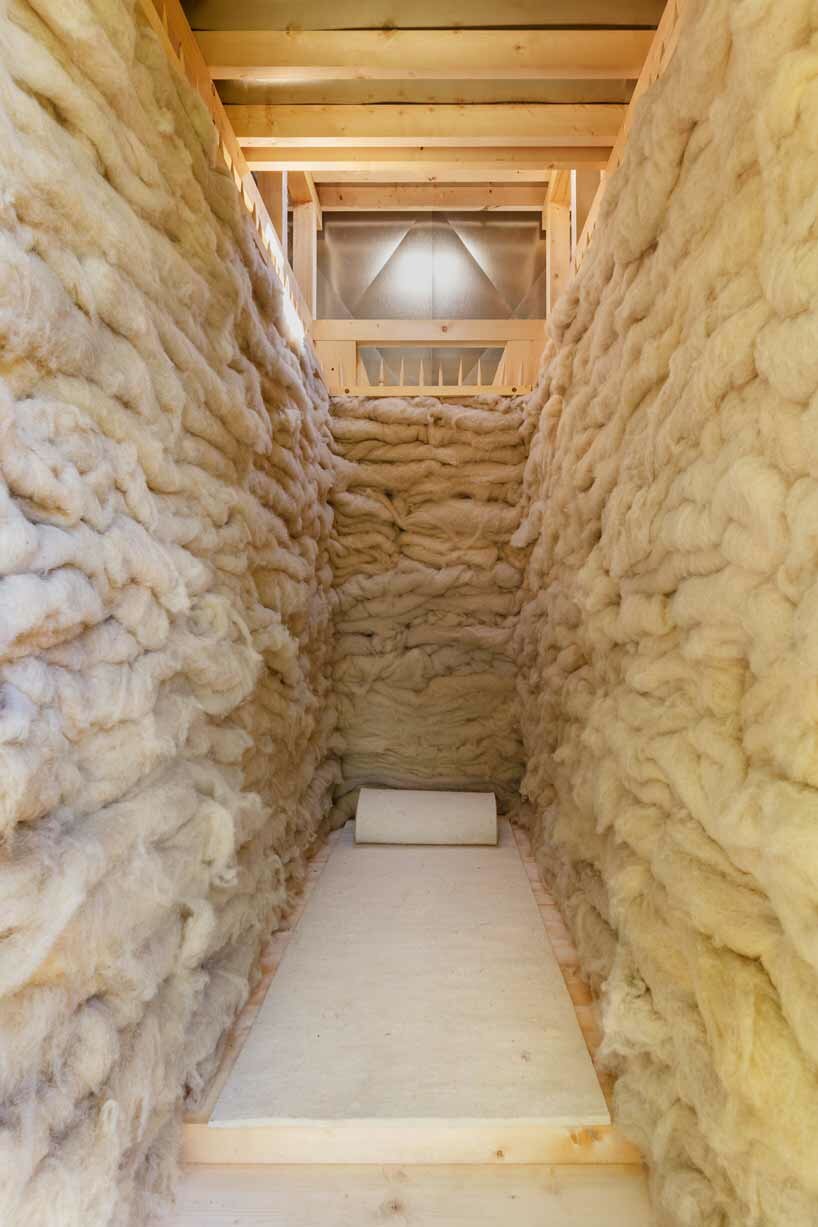 Treehouse (2018, Cabinfever)
Treehouse was a permeable structure in Csóromfölde that watches over the area, acting as a beacon for lost travelers. The project is marked by its minimalist form, the significant height of 12.5 meters, and detailed angular siding. The inward-leaning triangular walls significantly reduced the interior space in the cabin, so the only way to expand the living space was to increase the height of the building. The building is open on the ground floor, but the upper sections which are accessible by a ladder, are completely closed off so weary travelers can find solitude, and escape the weather outside.
team leaders: Pascal Deschenaux, Aziz Temel, Francesco Borghini (Frundgallina)
team: Maria Victoria Gracia, Miranda Rigby, Kam Lai Man, Nguyen Hoang Minh, Jack Bowen, Igor Nesterov, Katarina Martonakova, Hugh Gibbs, Evgeny Makarenko, Nanu Youttananukorn, Anna Varga-Kardos, Karolina Krzyzanowska, Alice Kim, Laia Bramona Collet, Fruzsina Karig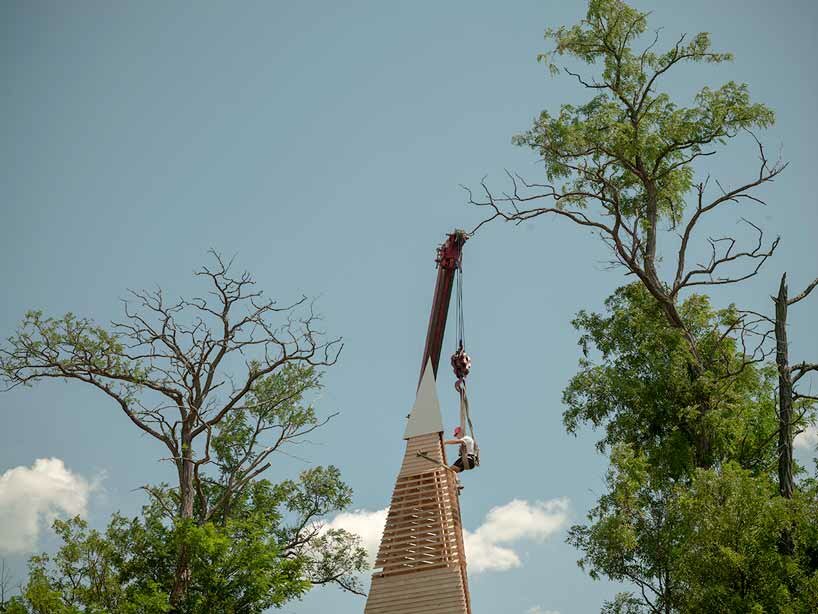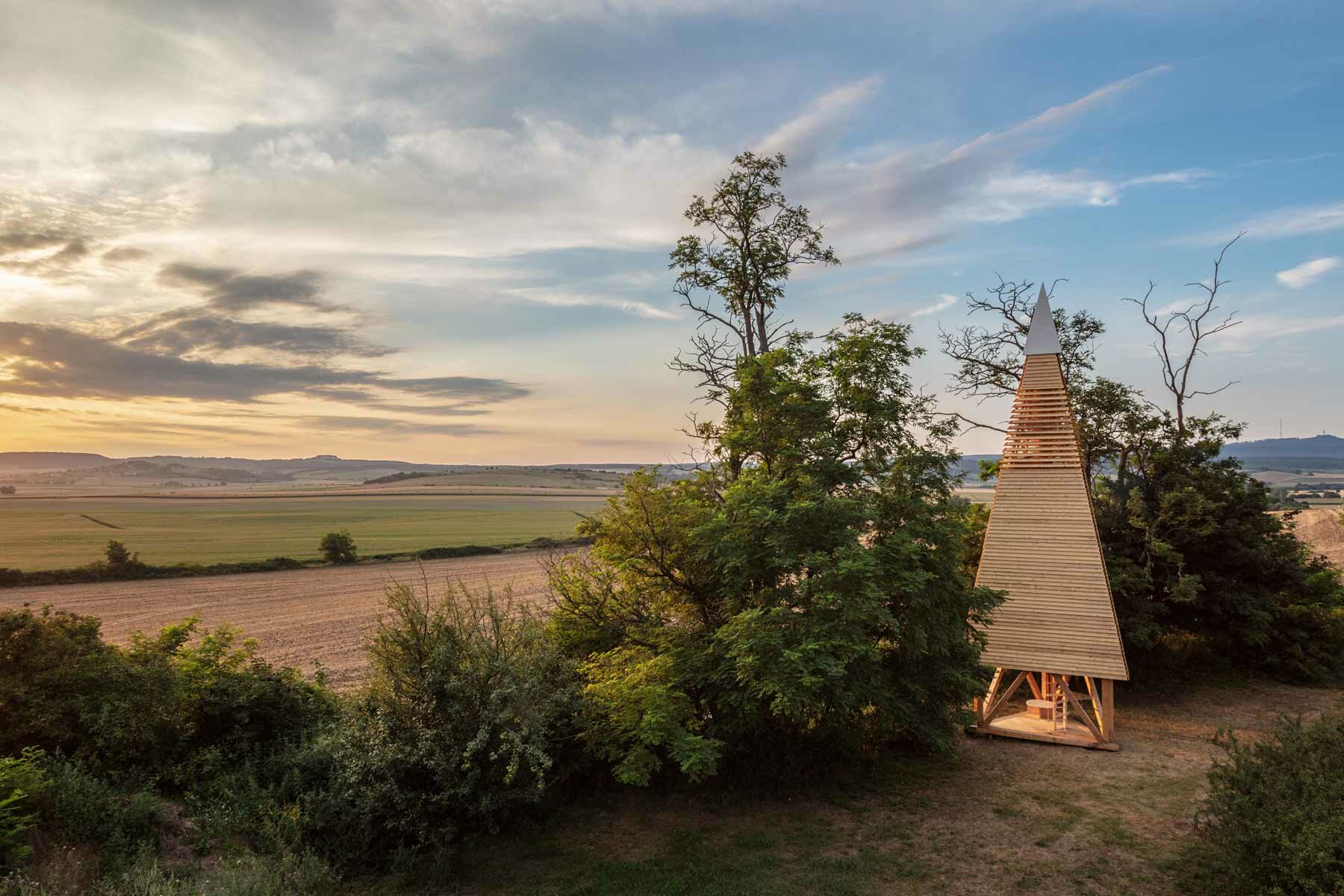 Tűzvíznéző (2018, Hungarian Gathering)
This project took form as a floating resting platform on a Hungarian pond. The students positioned floating wooden structures in the mud that held an elliptical deck with a fireplace made of chamotte bricks. The installation, made of traditional local materials, reconnects the river and the small lake to the fabric of the village.
team leaders: Tamás Bene, Áron Vass-Eysen
team: Bence Dobos, Veronika Róza Háló, Fanni Hegyi, Lehel Heim, Kitti Krusinszky, Evelin Murczin, Kíra Eszter Szabolcs, Dávid Székely, Imre Szűcs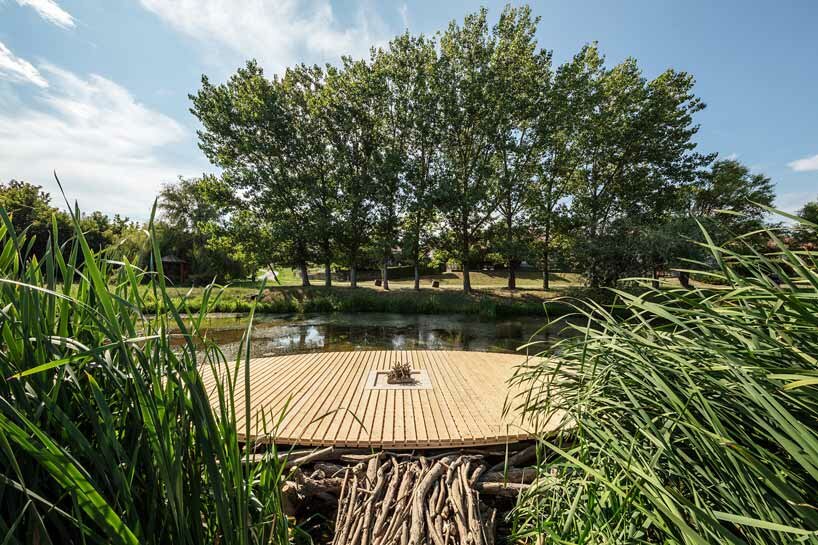 image by Mate Lakos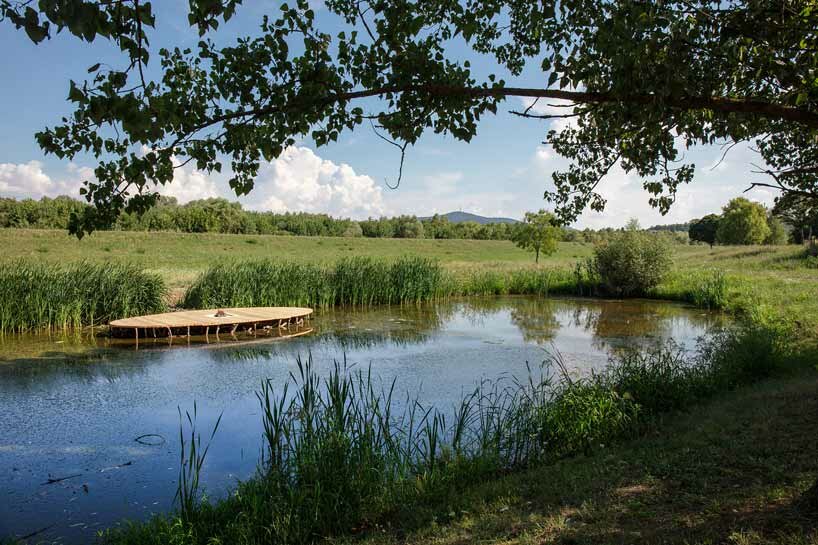 image by Mate Lakos
We Mask (2019, Carnival)
WeMask was a performative structure that relied on its participants. They held up a straw roof, transforming the skeleton into a functional structure. This gesture fosters a collective mood, accentuating that people need to work together in order to achieve their goals. On top of its message, the project celebrates sustainability, with the roof constructed solely of materials gathered on-site and without the use of any electrical tools.
team leaders: Natalia Vera Vigaray, Patxi Martin, Josep Garriga Tarres (Office Shophouse), Alžběta Brůhová, Tina Peirlinck
team: Leva Davulyte, Lucie Blanchot, Charnjeev Kang, Daniel Menšík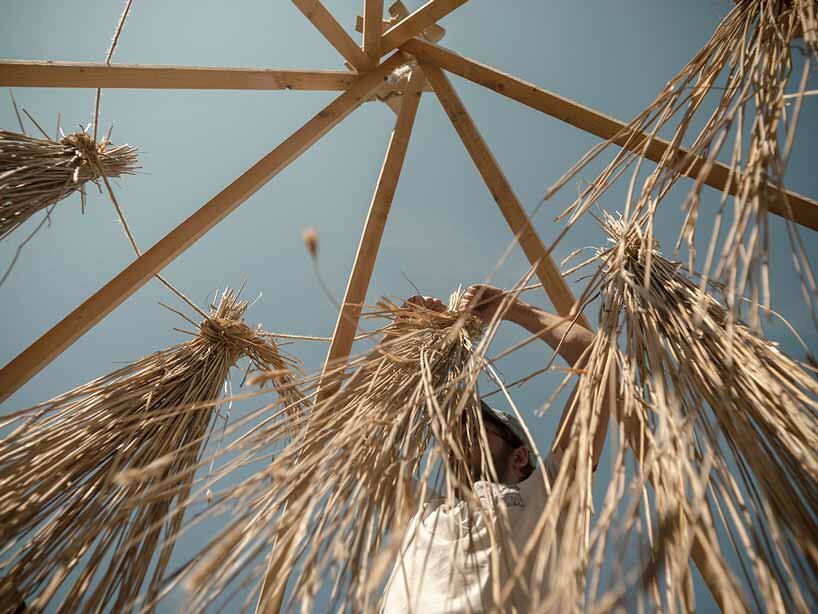 image by Balazs Glodi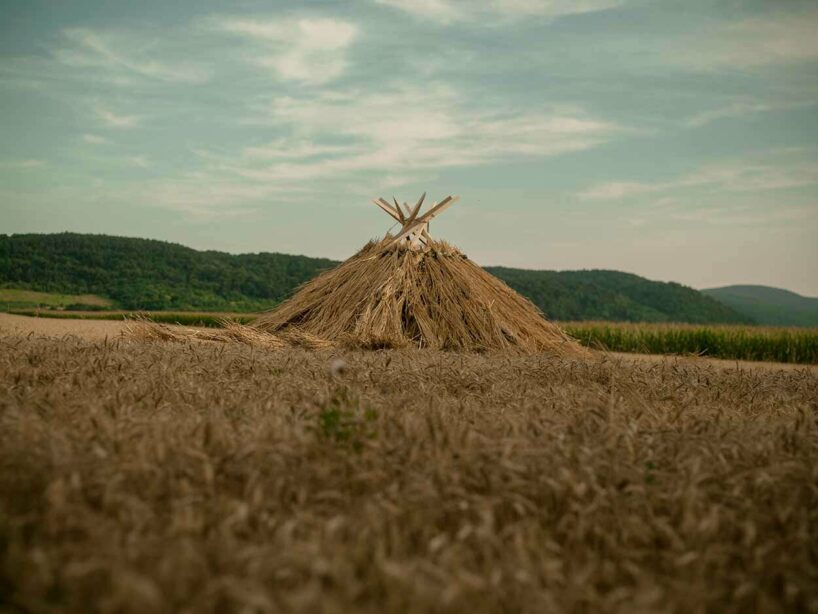 image by Balazs Glodi
Ginga (2020, Superposición – Argentina)
The Ginga project in Argentina invited Hello Wood participants from rich cultural and professional backgrounds to exchange ideas. The idea behind the project was to encourage multiple encounters and provide an experience as a space for leisure, conference, and permanence. At night, the central lamp illuminates and dyes the space in red, generating shadows and different perceptions, drawing visitors' curiosity. 'Gingar' is the basic movement of capoeira, a Brazilian martial art, and it is deeply related to the idea of moving harmoniously.
workshop leaders: Giovanna Taques, Guilherme Schmitt, Victor Escorsin, João Vitor Sarturi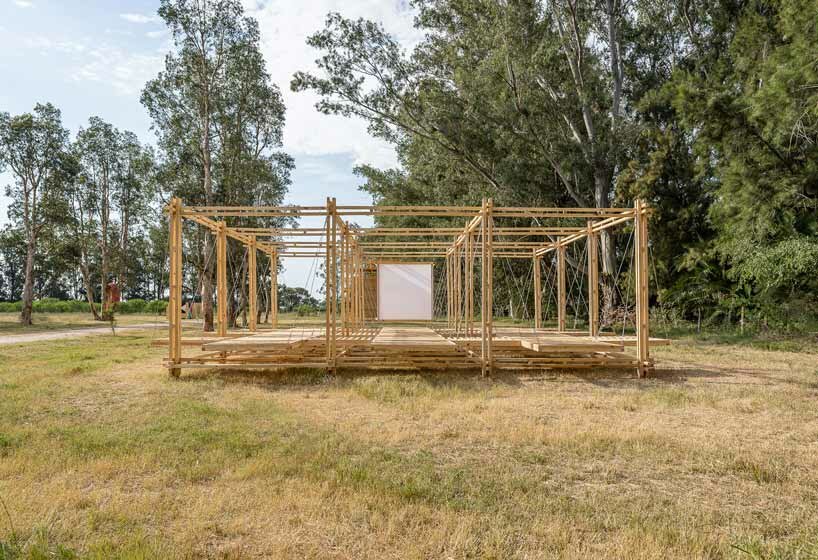 image by Pedro Scarpaci
image by Balazs Glodi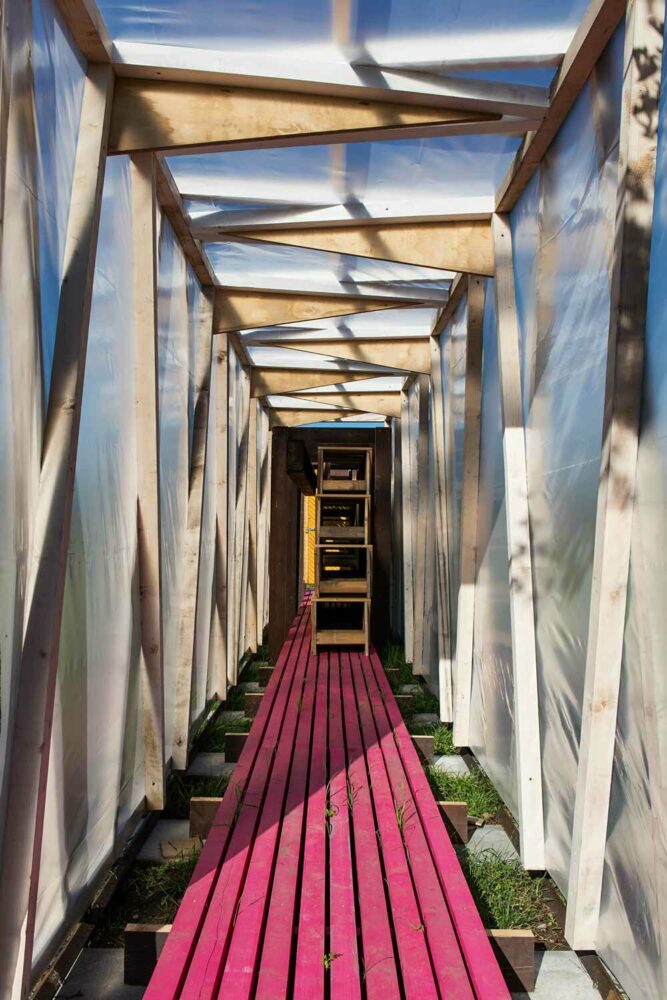 image by Mate Lakos
image by Balazs Glodi
christina petridou
I designboom
apr 26, 2023
a diverse digital database that acts as a valuable guide in gaining insight and information about a product directly from the manufacturer, and serves as a rich reference point in developing a project or scheme.
designboom will always be there for you
milan, new york, beijing, tokyo

,
since 1999