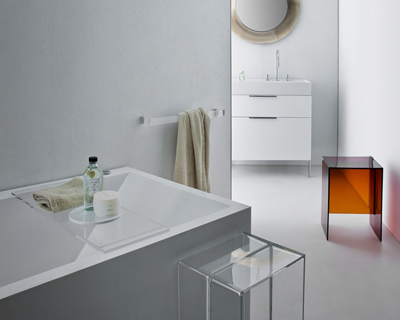 mar 22, 2013
kartell by LAUFEN bathroom by ludovica + roberto palomba
kartell by LAUFEN bathroom by ludovica + roberto palomba
plastic meets ceramic in 'kartell by LAUFEN: bathtub, washbasin, faucet and furniture by LAUFEN – footstool, towel rail, shelf and mirror by kartell
photo: LAUFEN
'kartell by LAUFEN' is a bathrooom which brings together the material essence and technological innovations of two companies:
italian furniture company kartell and its use of plastic applied to the production of furniture; and swiss specialist LAUFEN for its expertise
in the production of ceramic bathroom pieces. designed by ludovica and roberto palomba, integrated architecture is an interconnected
ecosystem where bathtubs, faucets, lights, sanitaryware, shower bases, shelving, washbasins and other furniture components:
cupboards, footstools, mirrors, tables…coexist, with maximum flexibility.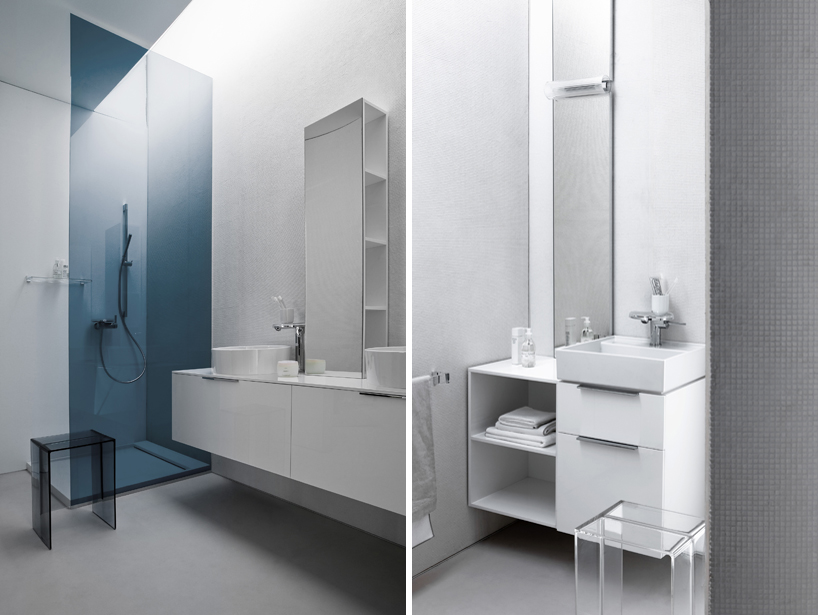 left: the collection includes a complete range of furniture: here the drawer element with elegant medium cupboard; in the background the flat shower tray with linear drain outlet
right: the vanity unit solutions offer the ideal combination of base models with a delicate front and a washbasin, while the open furniture offers additional storage space
photos: LAUFEN
after years of research and development by the swiss manufacturer has produced saphirkeramik a revolutionary material that has been
used in the production of all 'kartell by LAUFEN' washbasins for the first time ever. the composite is made from plastic and ceramic which offers
an exceptional hardness and bending strength – weighing half that of which it would normally – and withstanding scratches and the impact
of chemical agents such as detergents and limescale. in particular it allows the achievement of extremely narrow radius on the curvature of corners–
up to 1-2 millimeters, where up until now, the maximum was 7-8 millimeters– offering washbasins that are thin as blades.
another innovation is the application of liner drain outlets which extend across the entire width of each tub, sink or shower tray.
while giving the designs a new look, there is also a hidden outlet that combines an equally hidden overflow function,
allowing water to accumulate by means of a pop-up without running the risk of overflow.
'the glassy transparencies of the polycarbonate and the bare edges of the totemic floor-mounted washbasin attract those who love minimal,
moon-like, rarefied environments; the ambered plastic, the round softness of the washbasin, the bathtub in the style of a infinity pool will
seduce a public that is better disposed to decoration, to play, than ever. the rigid geometry of the ceramic items is tempered by the
multicoloured lightness of the plastic elements.'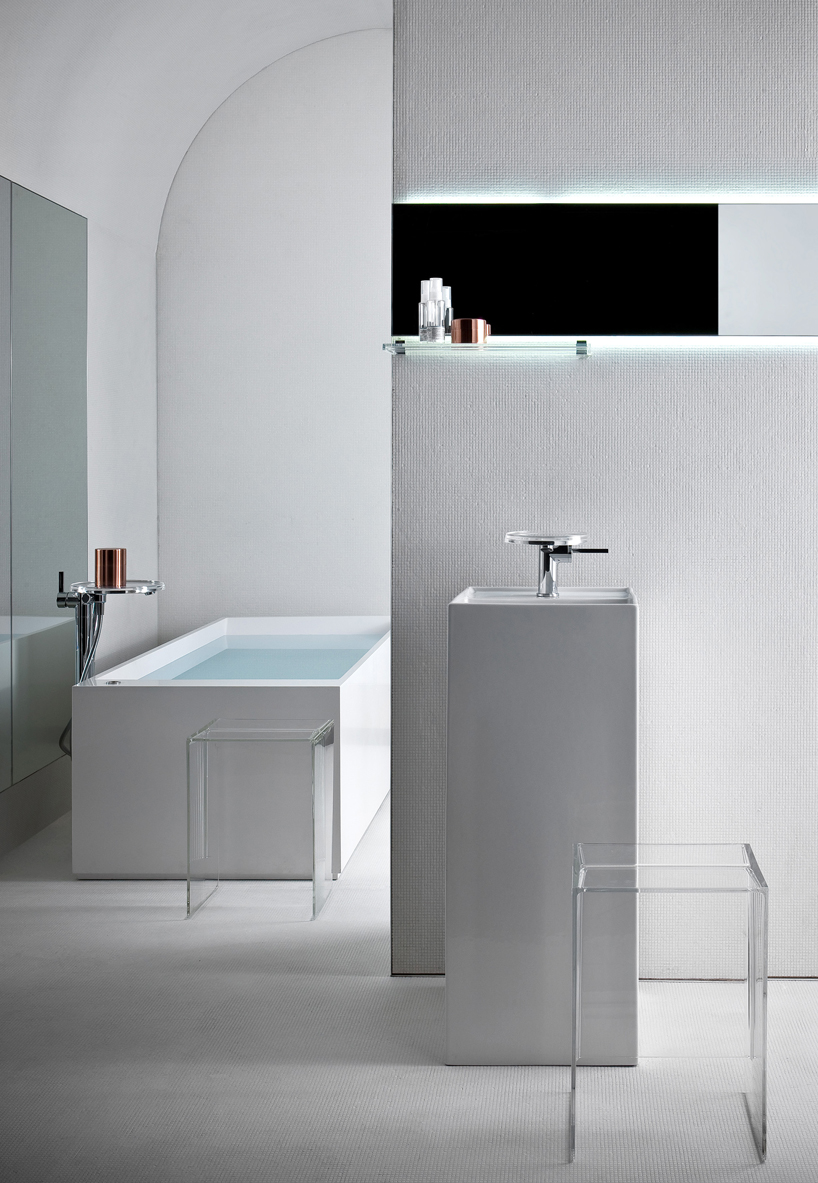 the floorstanding washbasin and bathtub from the 'kartell by LAUFEN' collection
photo: LAUFEN
'the bathroom is progressively and predominantly becoming the refuge of people's domestic imaginations,
now they are seeking well-being accompanied by a design that is functional and poetic at the same time.
in this project you breathe the whole aroma of the inspiring identity of kartell, which is immediately recognizable in its aesthetic expression.
I am, therefore, enthusiastic about taking on a new challenge and launching this important industrial project with LAUFEN.
there are many similarities that unite our two DNAs, which have allowed the realization of a collection capable of expressing the
whole essence of emotional italian design combined with the precision of the swiss tradition.' – claudio luti, kartell president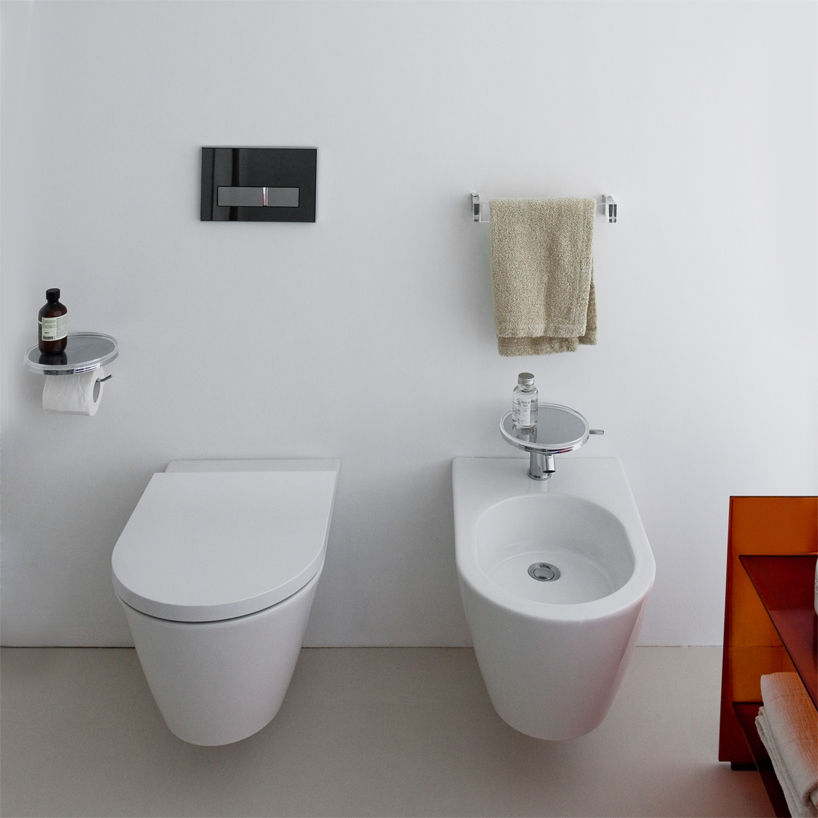 the wall-hung water closet (WC) and bidet from the 'kartell by LAUFEN' collection: their conical shape gives them the same light and airy appearance that pervades the entire collection
photo: LAUFEN
''kartell by LAUFEN' is a project based on a common understanding of the two companies about the value of emotions.
emotions and dedication define the novel idea of this bathroom and guided the project throughout the entire development.
the same sense of mindfulness to the materials and the same understanding of research and development have made the
two companies perfect partners – or, one could say, soul mates.' – alberto magrans, senior managing director LAUFEN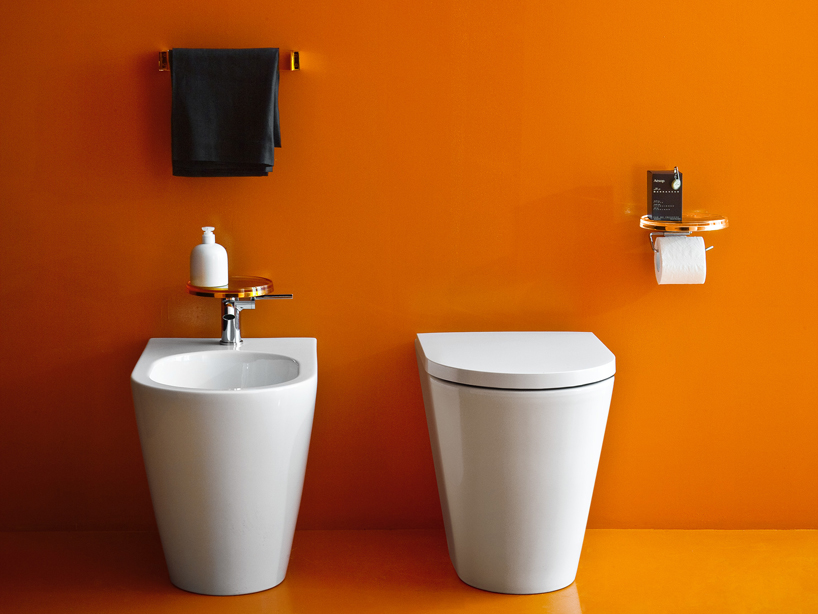 the floorstanding WC and bidet have a sleek, conical shape. smart details: the towel rail and the practical faucet-mounted tray from the collection
photo: LAUFEN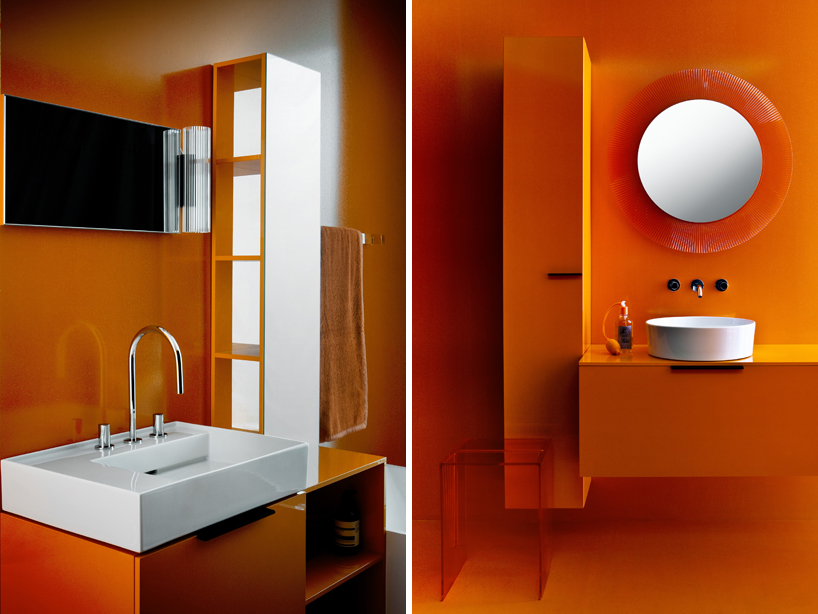 left: the vanity unit consists of a delicate washbasin with a purist 'K by LAUFEN' faucet lit by a pleated LED light
right: the round mirror is surrounded by a pleated frame, which creates an interplay of color and light
photos: LAUFEN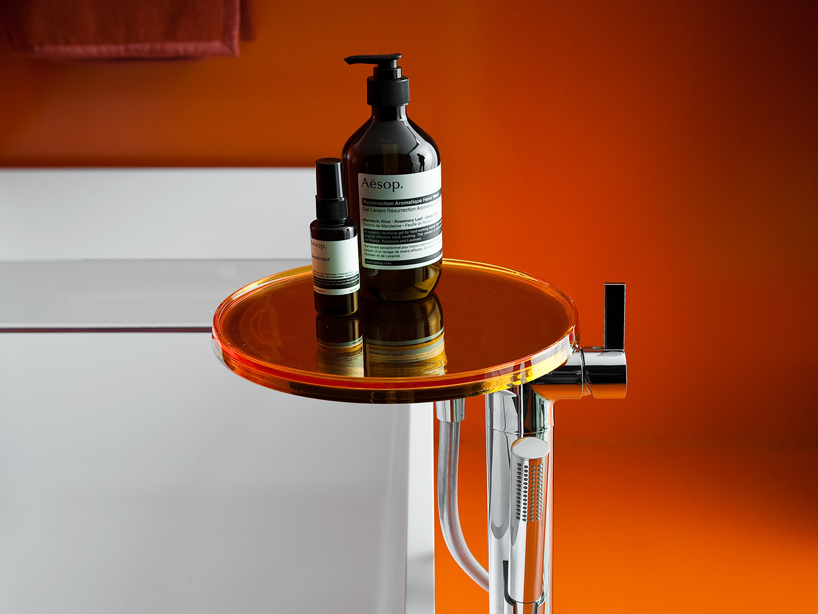 the sleek bathtub fitting has a removable faucet-mounted tray to hold all the essential bathroom utensils
photo: LAUFEN
the 'K by LAUFEN' line of faucets also designed by the italian design duo, are a continuation of the design language seen in the
'kartell by LAUFEN' washbasins and is comprised of two lines:
the 'K by LAUFEN disc' sees that all its faucets have an integrated disc element – a semi-transparent plastic part which can easily be removed and cleaned.
it is meant to be used as a shelf for soap or other bathroom accessories. available in several colors: orange, smoke and transparent,
it brings a sense of playfulness to the overall geometric concept of the series.
the second, 'K by LAUFEN' is more purist in form, with no disc. it includes a three-hole two-handle mixer with an arched spout and spout projection of 166mm;
a two-handle concealed mixer with a spout projection of 175mm plus a shower mixer; a five-hole bathtub combination and a wall overflow for the bathtub.
concealed shower and bath versions are also available, based on LAUFEN's simibox system.
'kartell by LAUFEN' will debut during milan design week from april 9th – 14th at the kartell flagship store.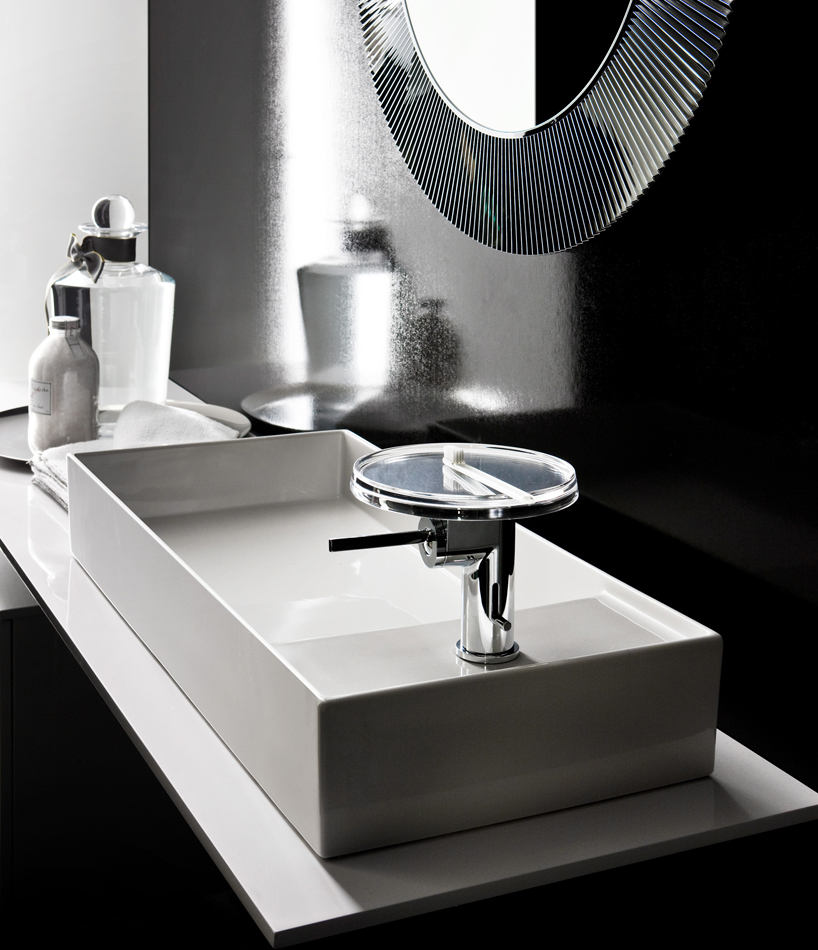 elegant vanity unit display: the delicate washbasin made of saphirkeramik with a 'K by LAUFEN' disc faucet and a mirror with pleated frame
photo: LAUFEN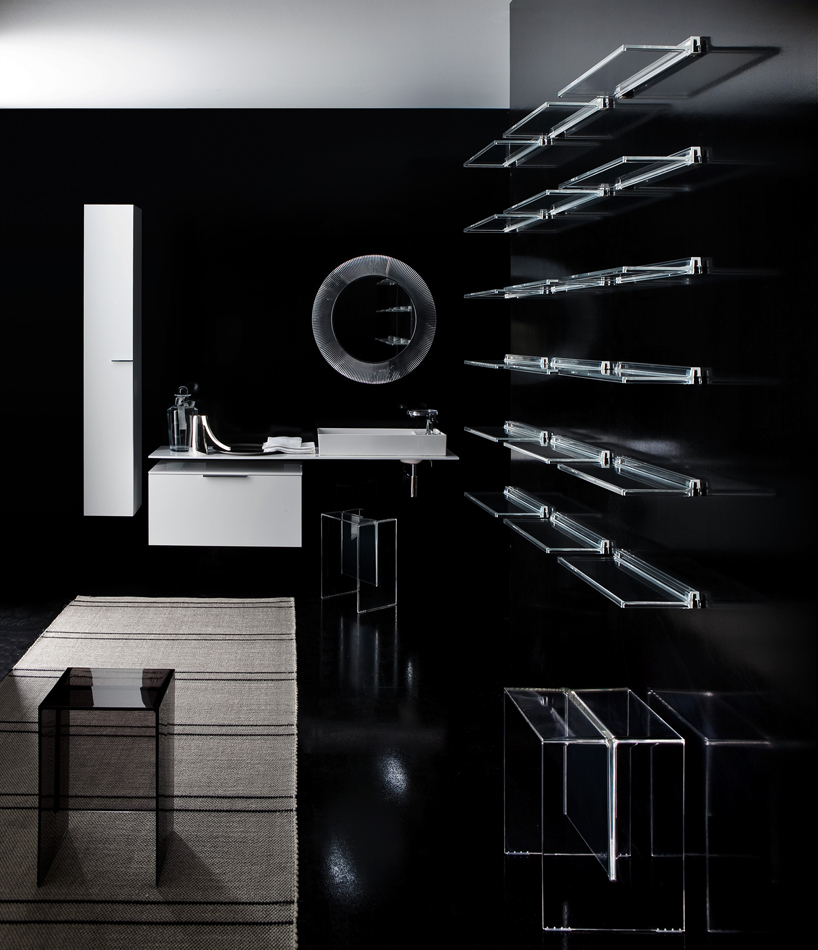 you can never have enough shelf space!
the shelf, made from transparent plastic, is fastened to the wall using special plastic screws and brackets
photo: LAUFEN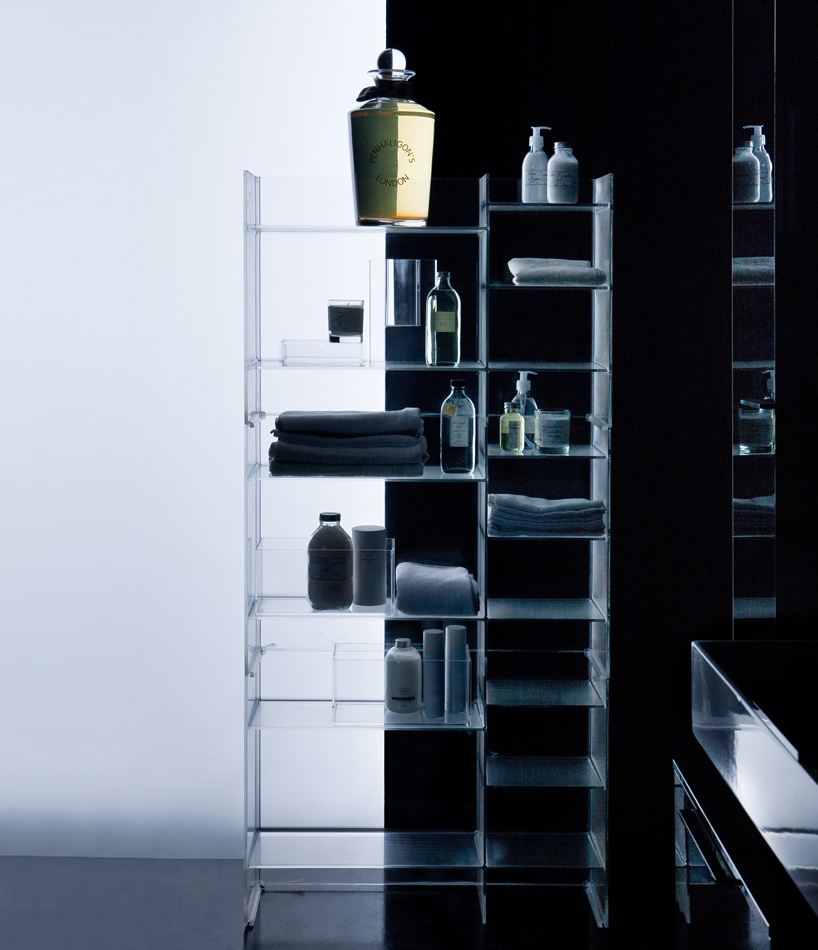 shelf or partition? both. this versatile and variable item of furniture is a nomad in the bathroom that can be tucked into a corner or fixed on the wall
photo: LAUFEN
aug 07, 2020
aug 07, 2020
jul 13, 2020
jul 13, 2020
jun 16, 2020
jun 16, 2020
mar 23, 2020
mar 23, 2020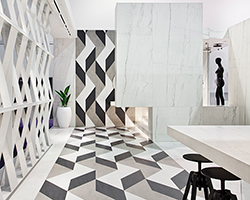 feb 26, 2020
feb 26, 2020
dec 13, 2019
dec 13, 2019
mar 04, 2020
mar 04, 2020
apr 11, 2019
apr 11, 2019
apr 18, 2018
apr 18, 2018
LAUFEN
(32 articles)
aug 07, 2020
aug 07, 2020
jul 13, 2020
jul 13, 2020
jun 16, 2020
jun 16, 2020
jan 23, 2017
jan 23, 2017
oct 31, 2016
oct 31, 2016
jul 12, 2015
jul 12, 2015
dec 01, 2013
dec 01, 2013
aug 02, 2013
aug 02, 2013
jul 11, 2013
jul 11, 2013
a diverse digital database that acts as a valuable guide in gaining insight and information about a product directly from the manufacturer, and serves as a rich reference point in developing a project or scheme.