iF design award 2021 shines the spotlight on award winning designers from all over the world who showcase immense creativity through their perspective on beauty gadgets, packaging and more. ranging from groovy grooming tools like smart shavers and toothbrushes all the way to a mysterious beauty salon and content-based personalized make-up app, inventive but most certainly practical designs make the list. besides, amid the times of the pandemic, who wouldn't enjoy a good self-care session?
designboom picks 10 winners from the iF design award 2021 that best represent the diversity that beauty design has to offer.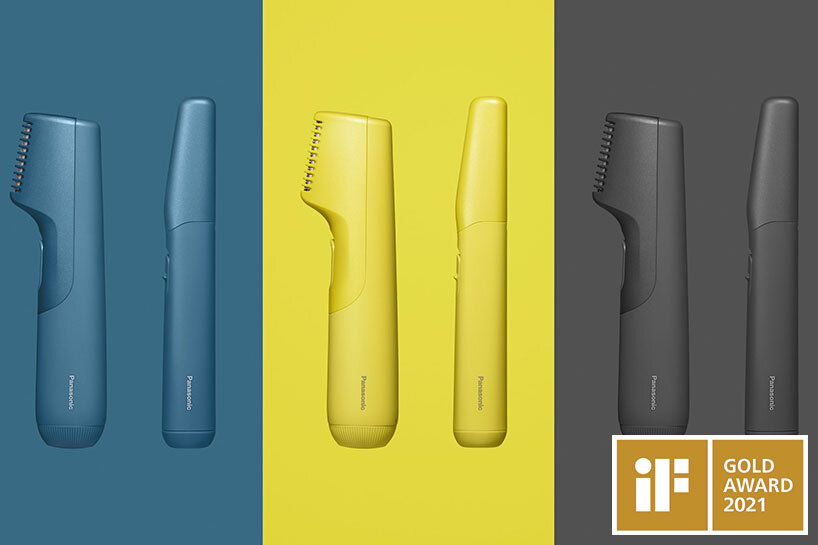 name: first shaving series er-gk20 / er-gm40
brand: panasonic corporation
designers: yuki sugiyama, ushio bessho
award: iF gold award
first on the list is japanese gold awarded winner 'first shaving series'. developed specifically to assist teenagers during puberty, the shaver helps dispel the user's fears or shyness with using a razor for the first time. in a funky color palette of yellow, blue and gray, the device allows easy personal grooming of beards, eyebrows and body hair.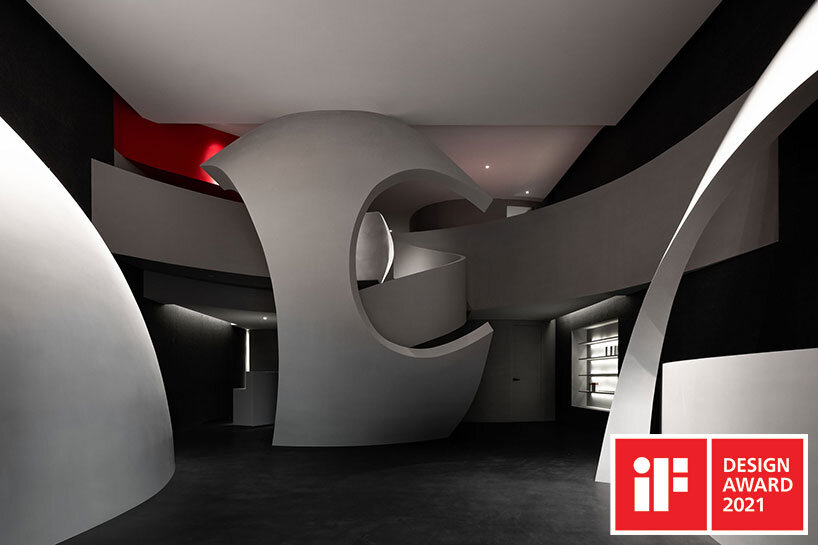 name: SOOYOU beauty salon
brand: mr. guo
designers: AD architecture
on a more architectural note, 'SOYOU beauty salon' in china is one to explore. through the curved walls and arcs, a unique interior perspective is enhanced conveying a sense of femininity and mystery. the fluid lines allow consumers to wonder within the space as they are exposed to the contrast of the static and dynamic red splashing features.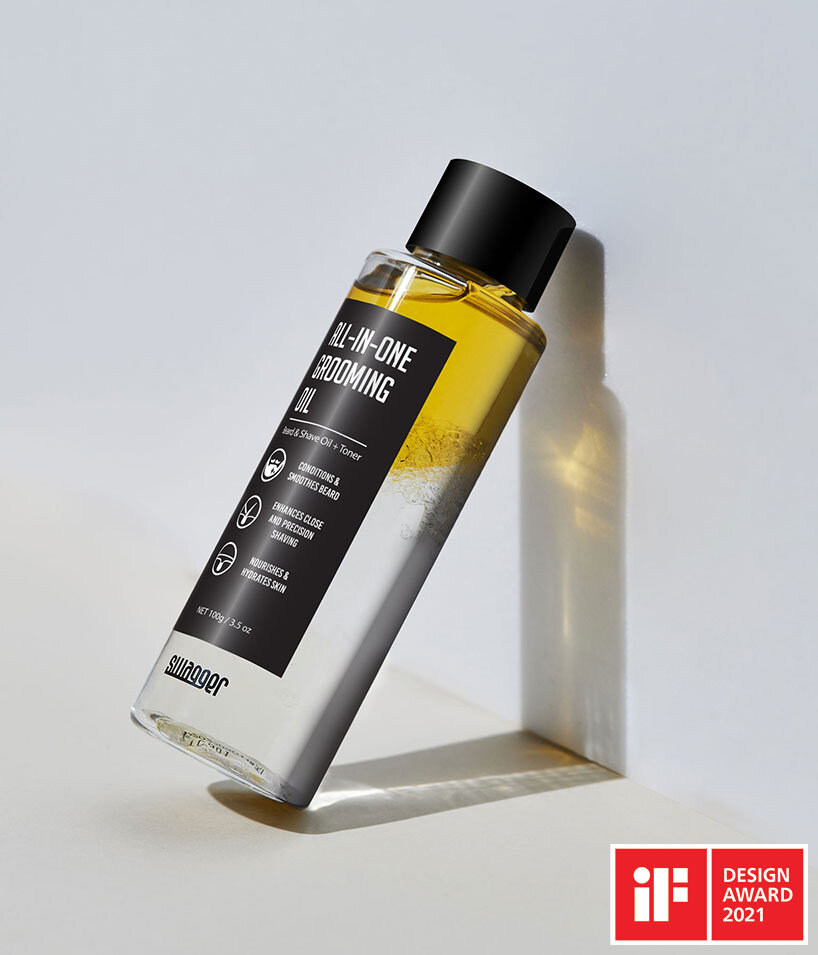 name: swagger all-in-one grooming oil
brand: art & design international
designers: gyumin lee hui myeong lee hye in choo
delivering complete care for beards and skin, the korean 'swagger all-in-one grooming oil' is also a visual treat. the product's transparent packaging makes sure to accentuate the two different layers in the bottle, which after being shaken create an interesting display of colors and mixture. the toning lotion and yellow natural oil are comprised within 100% recyclable plastic, while the outer box is made entirely out of recyclable paper.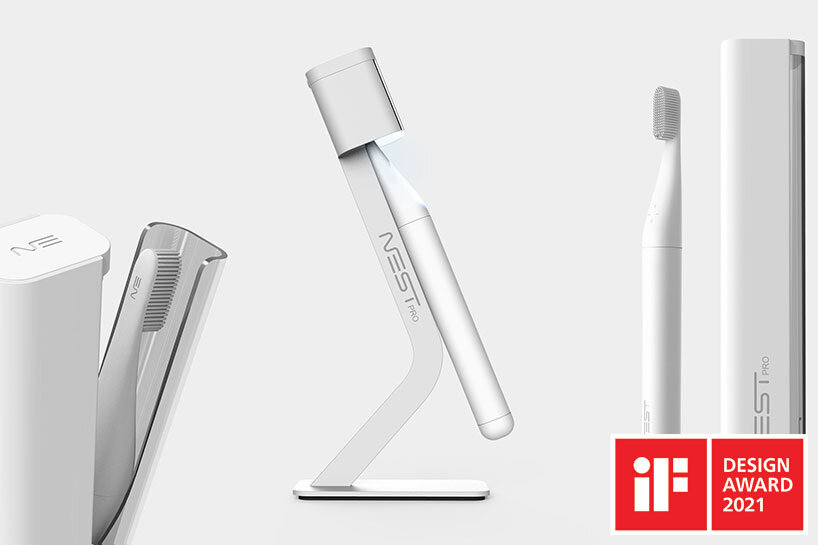 name: NEST pro set
brand: nest care, inc.
designers: kirill nesterov, maya prokhorova, aleksandr kliavinsh, vladimir gorovoy, oleg bogumirskiy
almost robotic looking, the american oral hygiene set design for 'NEST pro set' gives smiles all around. the product consists of a silicon toothbrush and toothpaste loaded into the handle, which can then be refilled. moreover, together with the brush stand, built-in UV sterilizer, carrying case and replaceable heads, the set is optimized for maximum comfort on travels.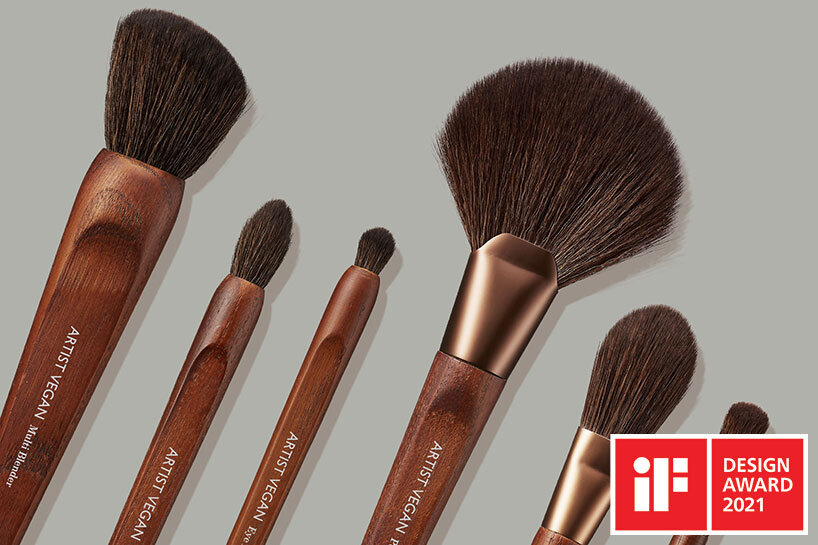 name: artist vegan brush
brand: too cool for school
designers: young mi jang, yu jin lee, hye yeon park
'artist vegan brush' is definitely too cool for school. the sophisticated range of makeup brushes designed with an awareness of animal welfare and the environment are 100% certified by the korean agency of vegan certification and services. the product is made of solid and durable wood, recyclable aluminum and artificial fibers for the tips. this impact on sustainability goes a long way as the eco-friendly brushes can also be safely disposed after their cycle.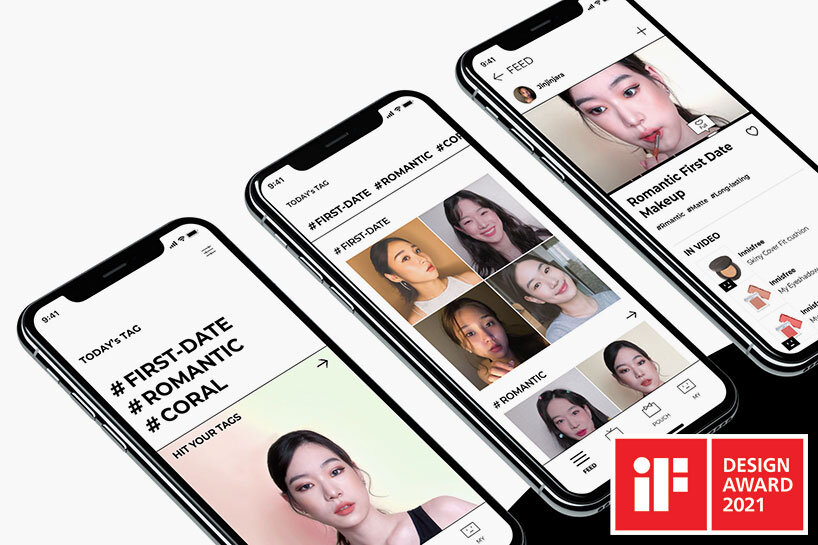 name: hitpan – cosmetics and beauty creators for you
brand: hitpan
designers: hwang kim, hyejin oh, byeongkuk kwak, hyojeong jin
the first and only app on the list is 'hitpan'. the korean developed program curates cosmetics and beauty influencer content based on personalized input data. from a preference set-up, the digital service analyzes the user's lifestyle data as it smartly curates the suggested feed using AI and algorithms. short for hitting pan, the app also delivers video chapter division through in-depth filtering including skin properties and texture. overall, a tailor-made make-up experience is promised.
name: skincare shaver es-mt21
brand: panasonic corporation
designers: kazuki masuda
a world's first makes the cut with a japanese designed shaver that simultaneously provides skincare. as its name self-explains, 'skincare shaver' provides busy users an all-at-once grooming routine. the device begins by applying a toning lotion while shaving and thanks to its unique linear motor with a 30º angle blade, a refreshing smooth result is always achieved. to complete the session, the use of the ion plate featured with electroosmotic flow technology helps the skin deeply absorb the ingredients of the lotion leaving the skin fully moisturized.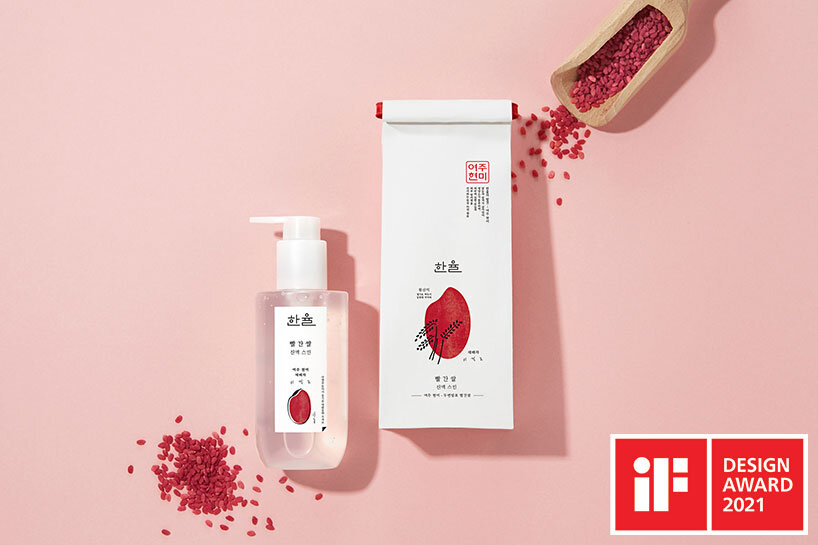 name: hanyul sustainable campaign
brand: amorepacific
designers: jeehyo in, jiwon kim
with an eco-friendly design, 'hanyul sustainable campaign' is all about the packaging. in containers that include 26,5% plant-based materials, the korean product aims to deliver authentic value and sustainability. the bright red spots on the carton box are not actually colored; instead, an easy-to-remove- label is used in order to achieve optimal recyclability. the minimal impact on the environment is carried throughout the product cycle, from design conception to disuse.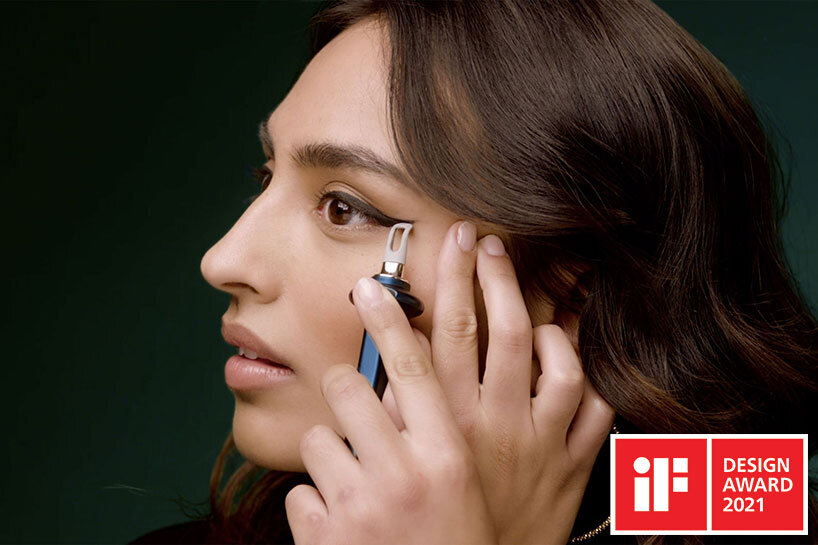 name: guide beauty
brand: guide beauty
designers: essential design
'guide beauty' by american founder terri bryant touches a more sensitive topic. after being diagnosed with parkinson's, bryant's passion as a professional make-up artist felt threatened. to fight the problem, a developed line of beauty applicators built with ergonomic support can provide better stability and control. with these touches, make-up enthusiasts of all abilities are aided to perfect their look with ease and confidence.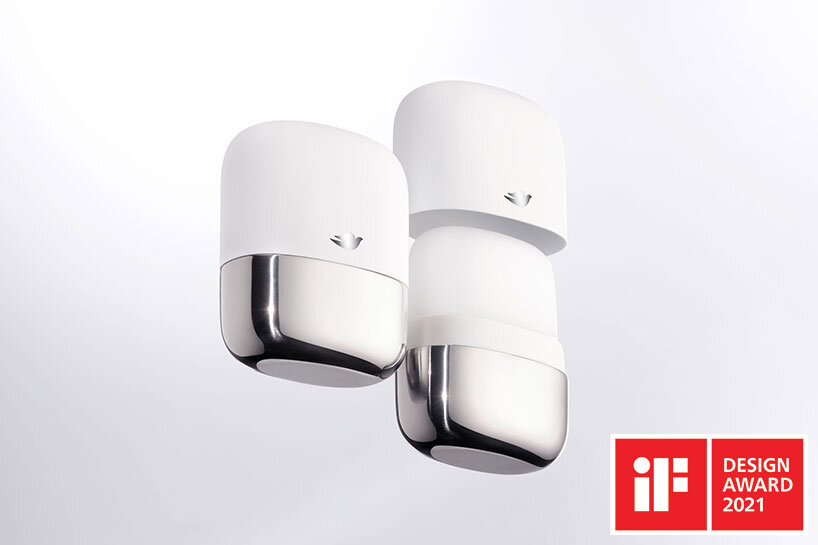 name: dove- refillable deodorant
brand: unilever
designers: vanberlo agency
dutch brand 'dove' completes the set of winners. as a means to respond to the environment and waste crisis, the famous deodorant rethinks its packaging. the refillable minimalistic container reduces plastics by 54%, equivalent to a shocking reduction of up to 342,9 tons of plastic by 2023. the design remains as timeless as it is polished while the stainless-steel case twists and clicks to allow multiple use.

marking the fifth collaboration with designboom, iF design award announces the winners of the 2021 edition, 'beauty gadgets, packaging and more'! as thousands of entries were reviewed and narrowed down by an elaborate international jury, our top picks. projects also include winners earning the prestigious iF gold award. together, we aim to highlight inspiring and always creative ideas, responding respectively to each theme. to view the full curation of iF design award 2021 winners, visit here.
inspired to take part? showcasing the 'creatiFe power of design', registration for iF design award 2022 is now open, here.
a diverse digital database that acts as a valuable guide in gaining insight and information about a product directly from the manufacturer, and serves as a rich reference point in developing a project or scheme.
designboom will always be there for you
milan, new york, beijing, tokyo

,
since 1999