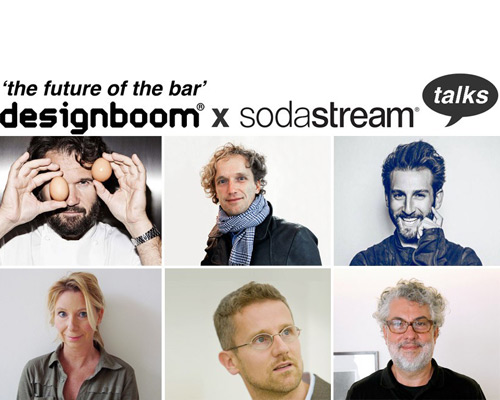 apr 02, 2015
the future of the bar: designboom x sodastream talks during milan design week 2015
on the occasion of milan design week 2015, DESIGNBOOM x SODASTREAM bring together the leaders of the design industry, with protagonists of the culinary and mixology world — to engage in a greater dialogue revolving around 'the future of the bar'. both talks are open to public. limited seating available. be early. if you are in town, we hope to see you there!
JOIN THE TALK OF THE TOWN!
april 16
4:00 – 6:00 pm
with
yves béhar, founder and CEO of fuseproject, san francisco
alexander josephson, co-founder of partisans architecture, toronto
marcio kogan, founding principal of architecture studio mk27, sao paolo
birgit lohmann, founder and editor-in-chief moderates the DESIGNBOOM x SODASTREAM talks
@ teatro versace
piazza vetra, 7
milan
yves béhar / conceptual design : a world-preview
the designer, CEO and founder of fuseproject, will unveil a new revolutionary mix machine inside a pop-up bar 'the alchemy lounge', both designed by himself. the new mixology concept addresses technology's role in transforming the bar experience, current directions in the gourmet restaurant sector, as well as the design and styling of related interiors. the installation will be set within the glamorous milanese teatro versace to highlight all that the concept machine has to offer.

carlo cracco / gourmet food
the masterchef and owner of milan's acclaimed ristorante cracco and beautifully designed carlo e camilla restaurant is seen as a pioneer in progressive italian cuisine. come to see why the egg is his favourite ingredient, as he will talk about new beginning&tradition, magic&religion… and cocktails.
carlo ratti / design and technology
the renowned italian architect and professor at the massachusetts institute of technology accompanies us in the unexpected garden of the trussadi cafe in milan to the world's first crowd-controlled robotic bar and gives in-sight to his project for the new holland agriculture's pavilion at milanEXPO2015. it features a large agricultural field on its roof, similar to a giant 3D printer thanks to the constant activity of two zero-emission, robotized, self-driving tractors, which will constantly move over the roof, 'writing' and working the land.
alexander josephson / space design
the co-founder of architecture studio partisans, will introduce us to their brand new realizations – from a sculptural sauna to the toronto-based bar raval, the hottest outpost of canadian culinary impresario grant van gameron and his partner mike webster, one of the most celebrated mixologists in the world. dive into an idiosyncratic fusion of spanish art nouveau with contemporary digital tools: think gaudi with computers, tattoos and a love for the wu-tang clan.

marcio kogan / architecture and interior design
the founding principal of architecture firm mk27 will surprise us with his spectacular brazilian architectural flourishes and socially striking design elements.

together the talk experts will investigate current design challenges in the growing movement of sophisticated fine dining and cocktail gathering. a perfect occasion to present the sodastream MIX – a concept machine which is set to disrupt the world of mixology, at home and at the bar, showcased within the alchemy lounge pop-up bar, both of which are designed by yves béhar.
'after two years in development, MIX's advanced technology has already garnered admiration from the world's leading beverage professionals, who believe the unrestricted use across all drink formats will stimulate new beverage possibilities. the MIX combines technological breakthrough with the most advanced user interface ever seen in kitchen appliances and most importantly it allows home users & professional mixologists to create new exciting beverages they could have not done before! this is the most innovative product sodastream has ever put forward.' – yaron kopel, chief innovation & design officer at sodastream
'the MIX reveals an entire new generation of sodastream products that the company has been developing for the last few years. its potential is tremendous and we are extremely excited to unveil it in milan.' – daniel birnbaum, CEO at sodastream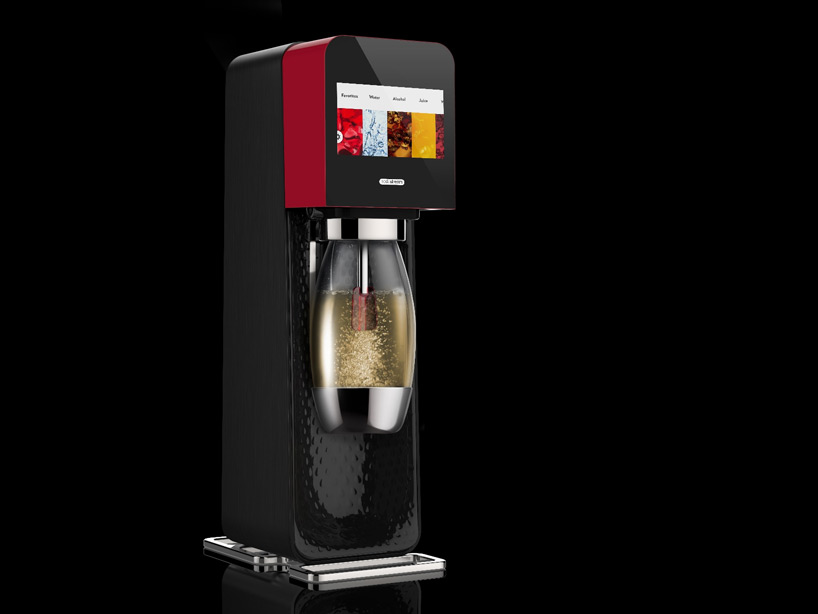 MIX by sodastream concept machine stands as the first appliance capable of carbonating any and all liquids — from pure fruit juices to alcoholic beverages — heightening the senses, and experience of cocktail drinking. the appliance corresponds with the growing trend for more advanced and professional home entertainment devices and products for food and drink; and is fully connected with a digital interface that offering new opportunities professional bar tenders and sophisticated home users.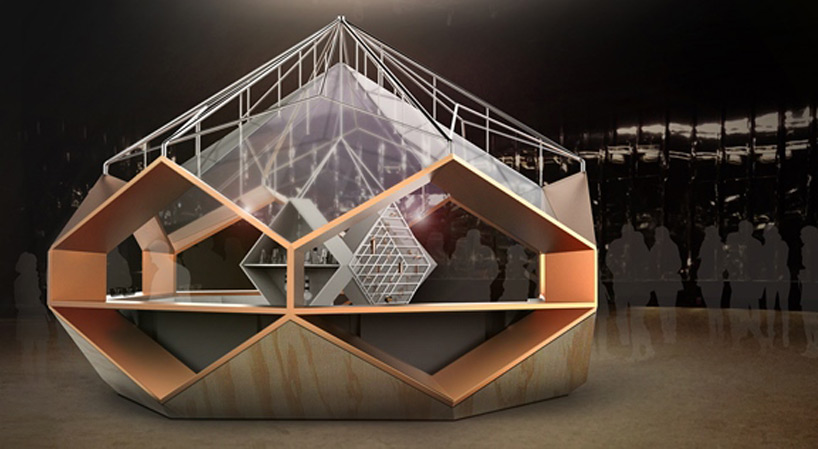 digital visualization of yves béhar's pop-up alchemy lounge
exhibition open to public all days
april 14 to 17 2015, 10:00 am to 6:00 pm
press tour april 13, 11:00 am to 1:00 pm
@ teatro versace
piazza vetra, 7
within the 5vie art + design district in milan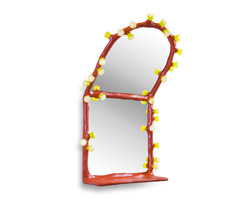 may 06, 2015
may 06, 2015
may 04, 2015
may 04, 2015
apr 22, 2015
apr 22, 2015
apr 14, 2015
apr 14, 2015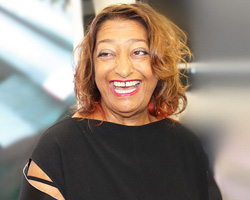 apr 14, 2015
apr 14, 2015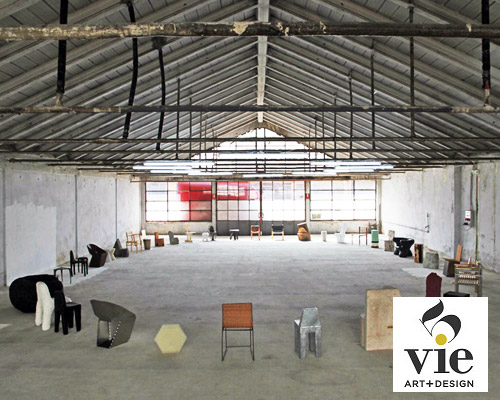 apr 12, 2015
apr 12, 2015
mar 09, 2015
mar 09, 2015
apr 30, 2020
apr 30, 2020
apr 21, 2020
apr 21, 2020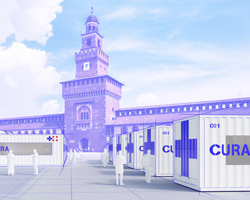 mar 24, 2020
mar 24, 2020
nov 12, 2015
nov 12, 2015
oct 19, 2015
oct 19, 2015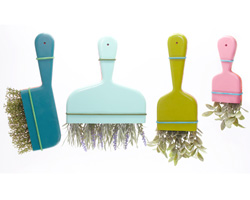 sep 04, 2015
sep 04, 2015
jul 17, 2020
jul 17, 2020
dec 14, 2019
dec 14, 2019
jul 08, 2019
jul 08, 2019
aug 21, 2018
aug 21, 2018
may 04, 2015
may 04, 2015
apr 15, 2015
apr 15, 2015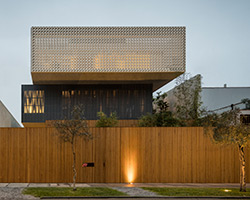 mar 08, 2020
mar 08, 2020
mar 02, 2020
mar 02, 2020
mar 01, 2020
mar 01, 2020
jul 22, 2020
jul 22, 2020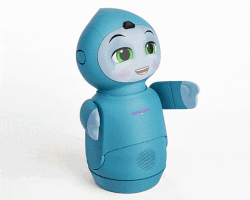 may 15, 2020
may 15, 2020
apr 01, 2020
apr 01, 2020
a diverse digital database that acts as a valuable guide in gaining insight and information about a product directly from the manufacturer, and serves as a rich reference point in developing a project or scheme.